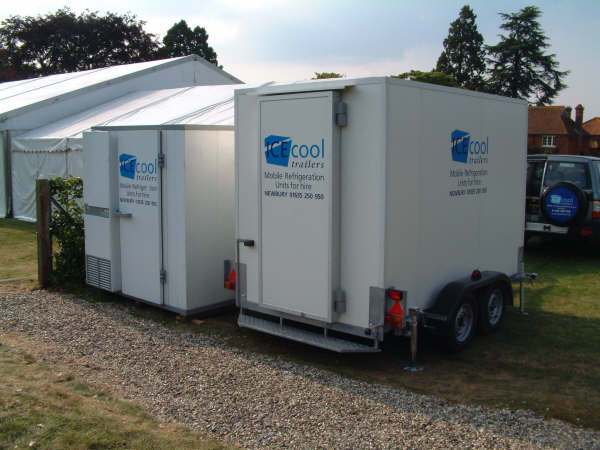 10-Nov-2015
Chiller trailers are professionally converted box trailers that are of a similar shape to horse boxes, but they wouldn't be much fun for Seabiscuit being so cold!
They are a popular refrigeration solution with event caterers and indeed restaurateurs who require adaptable and flexible refrigeration solutions. They can be both an essential component to the day-to-day running of a business or a lifeline in the event of complete and partial refrigeration failure. We hire out chiller trailers for both requirements, helping businesses to adapt to changes and meet customer demand.
How do chiller trailers work?
Refrigeration in a chiller trailer is achieved in the same way it is a household fridge.
The trailer is hooked up to a power supply, in our case either a 13-amp or 16-amp power supply or a portable generator delivering the same output. Electricity powers a motor and compressor hidden away in the trailer. The compressor squeezes an eco-friendly refrigeration gas called HFC-134a, or tetrafluoroethane (Freon), and this compression causes it to liquefy. Once it is in liquid form and at a high pressure, the refrigerant absorbs heat inside the trailer, cooling down the air to reduce the ambient temperature.
The refrigerant constantly evaporates back into a gas, where it flows back to the compressor, and the cycle starts over again.
How do freezer trailers work?
Refrigeration in a freezer trailer works in the same way as a chiller trailer, except it can be set to a far lower ambient temperature range. This requires a special compressor that can compress gas to a high enough pressure to maintain a temperature of at least - 18° C.
What are the refrigeration components made from?
The refrigeration components are made of aluminium, copper, or an alloy, while the walls are made of plastic (moulded polyurethane and polystyrene) and these keep cool air inside the trailer. The ambient temperature can be controlled by switch quickly and easily.
Who are chiller trailers and freezer trailers for?
Although most of our customers operate in the food and drink industry, we also readily supply chiller and freezer trailers to the medical industry. Our trailers are also available for disaster recovery and to cope with an uptick in produce demand during seasonal periods, so really, anybody can benefit from temporary refrigeration with a chiller trailer.
For chiller trailer hire, call us with no obligation on 01635 250 950 and get a free quote.