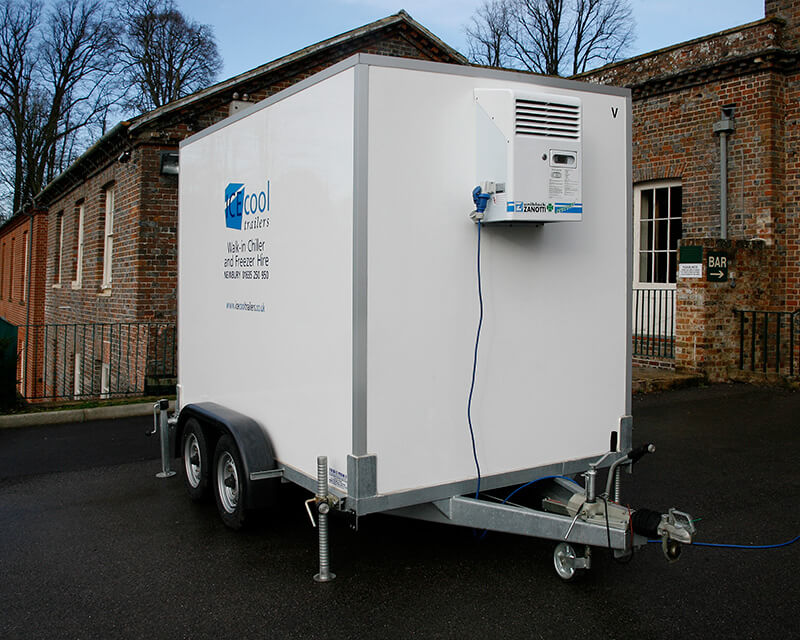 17-Feb-2017
If you're facing an emergency or need extra refrigeration for an event you probably won't have time to conduct extensive research into the refrigeration options available to you. Maybe you're panicking trying to work out where you can fit emergency refrigeration or how you'll set one up when you are already pushed for time. Panic over, our fridge trailer hire is the perfect solution for all your refrigeration needs!
I Need Refrigeration Right Now!
Fridge trailers can be set up for immediate use! There is no assembly required. They can be plugged into your existing electrical system and if you choose to hire your trailer from us, we'll provide all the necessary cables and leads and connect it for you. If your electrical source is further than 20m away from the site of the fridge trailer it can be powered by a generator instead, this makes it ideal for outdoor functions! At Icecool Trailers we can offer same day delivery and we can even deliver within 2-4 hours if you're based in London, Birmingham or Cardiff. We'll tailor your customised quote depending on the distance we'll drive in order to deliver the unit.
Can They Be Used Outside In Cold and Hot Weather?
As we live in Britain we know it's important that our fridge trailers are designed to withstand all kinds of weather. Standard refrigerators will malfunction if the surrounding temperatures drop too low, however our fridge trailers are designed to maintain the same temperature regardless of outdoor conditions. Our trailers are also waterproof so you won't have to worry about moving them somewhere covered if it rains or snows. This means that not only is fridge trailer hire ideal for outdoor events but also for providing outdoor storage during the festive season or busy summer months for any kind of businesses including butchers, pubs and restaurants.
Won't They Be Too Small?
Fridge trailers range in size, making them perfect for both personal or commercial use and there's enough room to stand up in all of our trailers.
Is Fridge Trailer Hire Safe?
They're clean and sterile so your food can be safely stored. They're also rugged, dependable and mounted on sturdy frames. Full lighting throughout our trailers makes accessing your stock safer and easier for you and your staff! Our trailers all have adjustable shelving inside which we can set up for you according to your needs. Your stock will remain organised making yours and your staff's lives much easier. Our trailers are also lockable, keeping your valuable assets secure.
We've been in the portable refrigeration business for over 20 years, during that time we've faced almost every kind of situation and emergency you could imagine. We know that you need fast, reliable and professional emergency refrigeration service that we are more than happy to provide.
Call 01635 250 950 or visit our website for more information and a customised quote for fridge trailer hire.