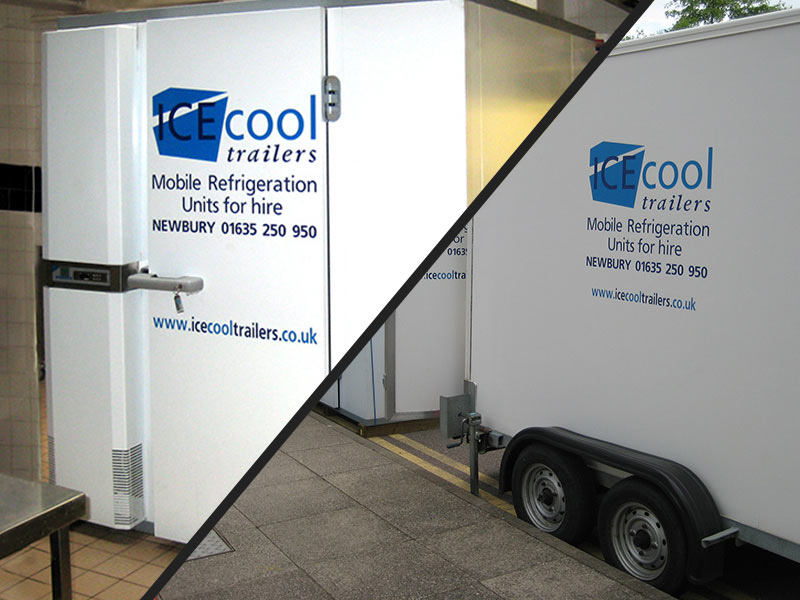 21-Dec-2018
Temporary refrigeration comes in all shapes and sizes. As an alternative to refrigerated van hire, we offer both trailers and walk-in chillers. We believe both offer benefits that far outweigh refrigerated vans in every respect. But that is not the point of this post. Rather, we want to help potential customers better understand how to choose between a trailer and walk-in chiller.
A trailer is essentially a portable refrigerator or freezer built onto a trailer frame. We deliver by towing the unit with a truck. We park the trailer in your designated location, level and stabilise it, install shelving, and connect it to your power supply. We then return to pick up the trailer once you are finished with it.
A walk-in chiller, or freezer if need be, is designed to be used inside your building. We deliver the unit as a set of panels that are then assembled on site. As such, you do not need a commercial loading bay to rent one of these chillers from us. We can carry the panels through any door, then assemble the unit and get it up and running in whatever location you desire.
Choosing the Right Unit
Our trailers and walk-in chillers both have pros and cons, depending on your needs. If you need help deciding which is the better choice for you, an Icecool Trailers account manager would be more than happy to help you figure everything out.
A trailer may be the best choice if:
You prefer external cold storage.

You do not have enough room for a walk-in unit.

You will be using a generator to power the unit.

Your rental is to accommodate an outdoor event.

Your building is undergoing construction or renovation.

You are a caterer with portable refrigeration needs.

A walk-in chiller may be the best choice if:
You would prefer interior cold storage.

You have security concerns about exterior storage.

You want cold storage that is more easily accessible.

You are looking at long-term rental.

You have the extra space to accommodate a walk-in unit.

You have nowhere to park a trailer.

We fully understand that different situations call for different solutions. That is why we offer both trailers and walk-in rooms. On top of this, we also offer multiple sizes for each configuration. Indeed, we strive to give our customers as much flexibility as possible.
Let's Talk about Your Needs
Hopefully we have given you plenty to think about as you consider your need for temporary cold storage. If you have questions, let us talk. Icecool Trailers is here to provide you with the right solution.
Please know that we provide our trailers and walk-in rooms for both pre-scheduled events and emergencies. Our emergency service includes delivery in the Greater London area within hours of your initial call. We strive for same-day delivery in all of our other service series. Icecool Trailers is proud to serve London, most of southern England, and select portions of South Wales.