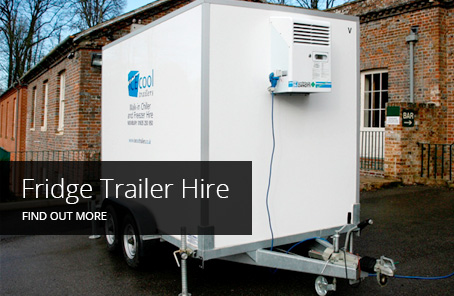 12-May-2016
Here at Icecool Trailers we offer same day delivery for fridge hire, because we understand that one of the biggest risks those in the catering industry face is a refrigeration failure. Foodstuffs can quickly spoil without adequate refrigeration and we have seen caterers and restaurants close down for the night because of this. Obviously, this is unacceptable from a business and customer's point of view.
The good news is that should you suffer a refrigeration failure we are here to help. We are able to deliver fridge trailers, freezer trailers, cold rooms and freezer rooms within 24-hours and often on the same day. In fact, we can deliver our units within just 2-4 hours in some areas of the country and you are welcome to hire any number of our units for as long as it takes to get your refrigeration problems sorted out.
About our fridge hire services
Icecool Trailers specialises in mobile refrigeration. We have our own fridge trailers, freezer trailers, cold rooms and freezer rooms that we hire out to caterers, restaurateurs, event and show organisers and anybody else that requires a fast refrigeration solution and fridge hire.
We offer many different sizes to suits most needs and our service is all-inclusive, meaning we will bring the unit to your business and set it up for you. We provide everything you will need to maintain your unit including all connections, cables and equipment, and we are happy to hire you our units for any period of time you require, be it a day or a few months.
Same day delivery for your business
We can usually deliver our trailers and cold rooms within 2-4 hours depending on where in the country you are. However, traffic conditions and location should be taken into account when reviewing the suitability of our services. We always try to be as flexible as possible when it comes to fridge hire so please do contact us for your emergencies and all your urgent refrigeration needs. We will do our very best to offer you a solution on the same day.
Contact Icecool Trailers for same day delivery
Speak with a member of our friendly and expert team today to find out more about our services or for fridge hire for your business. Call us on 01635 250 950 for urgent enquiries or fill in our contact form at this page if your requirement is non-urgent.