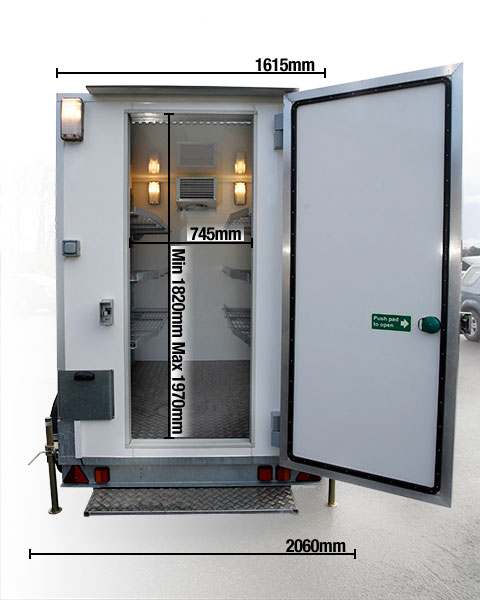 27-Oct-2016
As a butcher, you probably know better than most how important temperature can be when maintaining the quality of food products. Meat and poultry are generally regarded to be the highest risk items in all food groups when it comes to things like foodborne illness, and temperature-based problems.
If a selection of meat is allowed to grow too warm, then it can act as a breeding ground for bacteria - which could lead to illness and disease that effectively destroys your business.
Unfortunately, if your butcher business is still growing, then you might find that you struggle to store enough meat to become a competitive force in your local area.
After all, as with many businesses, butchers often find that they end up losing custom to other competitors that have a wider selection to choose from. A good solution to this problem, may be to increase your capacity using refrigerated trailer hire.
Why Should Butchers Consider Refrigerated Trailer Hire?
Fridge trailers offer an ideal solution for butchers that have limited amounts of space, and a limited amount of revenue to spend. These cost-effective products allow you to maintain a healthy temperature throughout all your excess meat products that might not fit within the fridge space in your actual butcher shop.
This ensures that you can offer a range of fresh, and safe meats to the public, without having to spend all your profits on paying for the real estate required to buy a larger store, or preparation area.
Fridge trailers are clean, sterile, and effective, and they can even be maintained using generators to ensure that your meat remains fresh despite unwanted power outages and other problems that might damage the products offered by other butchers in your local area. Imagine being the only store in your town that can offer fresh meat products during a storm or outage.
How to Hire a Fridge Trailer
All you need to do to make the most of refrigerated trailer hire is find a local provider, and arrange for your trailer to be delivered to your location for the set amount of time that works for you.
You can always ask to hire the trailer for longer if you find that business continues to grow thanks to your new selection of meats and cuts.
Fridge trailers can also be highly useful to you, as a butcher, if you decide to undergo renovations on your current store - as it means that you can continue to sell safe meat, even while your standard fridge is out of commission.