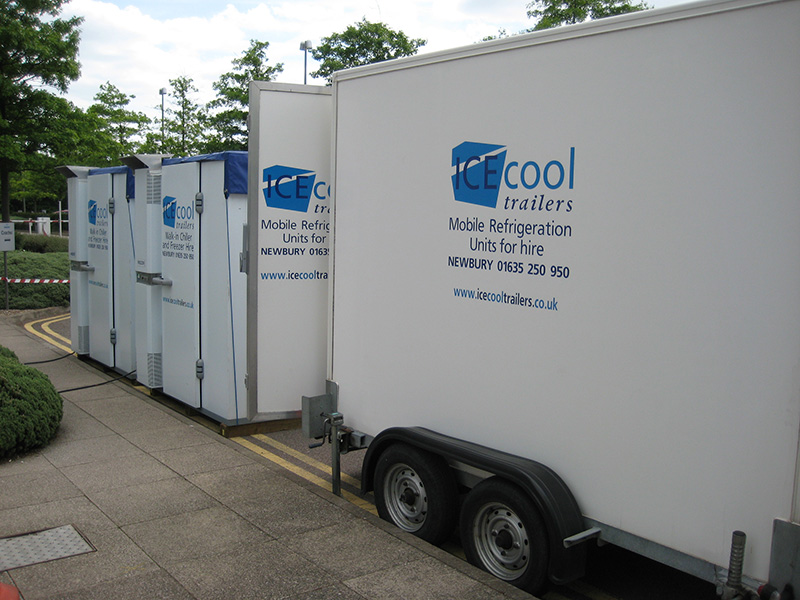 07-Jul-2016
Crises do not come much bigger for catering companies than a freezer breakdown. Month's worth of stock are at risk of ruin, and profit margins can be severely hit. Over the years, Icecool Trailers have saved thousands of companies from heavy financial loss, by turning up in double quick time to provide emergency freezer trailers. Over the twenty years we have been established, we have dealt with all types of emergency freezer situation, from small family run restaurants to big hotels and events in full swing. Because we can act fast and be on the road in minutes, we are used to saving the day. You can rely on us to turn up, set up and stabilise your freezer trailer, leaving you plenty of time to transfer your food stocks before they spoil.
How to cope with freezer breakdown
Don't panic. You have time to take measures while you wait for your emergency freezer trailer to arrive. Whilst it is true that bacteria begin to multiply as soon as the temperature of food rises, if the majority of the food stuff remains frozen it is unlikely you will have to discard it, as bacterial growth will be slow if the outer layers are at temperatures below 8°C.
You can keep your remaining stock cold by piling it up to form 'igloos', and covering it in insulating material, such as newspaper or towels. This traps the cold in and gives you longer before food spoils.
We aim to be with you within 2-4 hours if you are in London, Birmingham or Cardiff and as we have units at many other locations around the country, it won't be long before we arrive to set up your trailer. Be ready to transfer your stock as soon as we have set up. In a majority of emergency situations, stock can be saved.
What size freezer trailer?
We offer two sizes of freezer trailer. The 2.4m trailer is popular with smaller restaurants and catering facilities. It has a 6 cubic metre internal capacity. For larger establishments, the 3m trailer has an 8.5 cubic metre capacity and is suitable for most hotels and larger event catering. Both units are 'walk in', come with shelving, lighting and built-in stabilisers, all of which we set up for you. Our freezer trailers are lockable, and we hand you two keys before we leave. If you do not have a suitable power source, the units can be run from power generators. We can discuss all these details, and help you decide which size freezer trailer you need when you call.
Freezer Rooms
If your premises is not suitable for a trailer, we can install a freezer room on site. It comes in separate interlocking panels, which fit together to form a walk in freezer space. This is a great option for those with limited space outside.
Whatever your needs, Icecool Trailers will meet them. We do not see freezer emergencies, just freezer solutions!