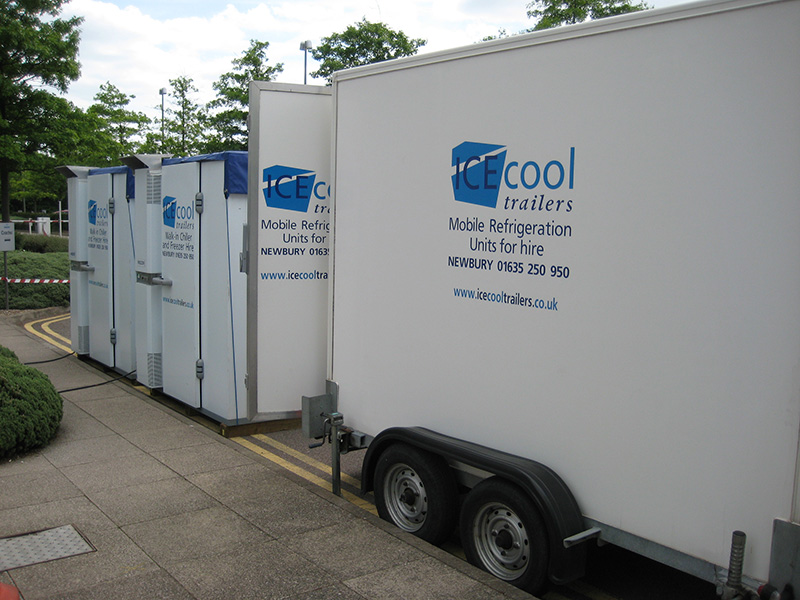 24-Feb-2017
Do you own a restaurant, pub or butchers and struggle to find adequate refrigeration for all your stock?
Do you own a catering company and wish you could cater to bigger events but have to turn them down due to lack of refrigeration facilities?
Leave these problems in the past! We have plenty of external refrigerated storage options available which will not only make your life easier but will help you to grow your business and make more money!
Fridge Trailers
Fridge trailers are a convenient, portable option when you need external refrigeration. They can be set up and used immediately, there is no assembly required! Unlike standard fridges, which can break down if the surrounding temperature drops too low, fridge trailers can withstand a variety of temperatures and weather conditions.
They are designed to maintain one temperature no matter how hot or cold the surrounding temperature is. In addition, at Icecool trailers our fridge trailers are waterproof so you don't have to move them somewhere covered when it rains or snows. We offer a range of different sized fridge trailers, suited to both private and commercial use. They're mounted on sturdy frames and are completely safe.
Cold Rooms
Cold rooms are the ideal solution if you need quick and affordable temporary or permanent external refrigeration. They can be installed almost anywhere, including both indoor and outdoor spaces. We offer 1.8m and 3m cold rooms to hire. They can be fully disassembled in order to get them through a standard size door and we will reassemble them on delivery!
Whether you choose to rent a fridge trailer or a cold room you can feel safe in the knowledge that all our units are clean, sterile and fully lockable. They're fully lit inside and have adjustable shelving and enough room to stand up in.
External Refrigeration Information
Both fridge trailers and cold rooms can be powered by your existing electrical source or if you require the unit to be set up more than 20m from your electrical source they can be powered by a generator. We will provide all the cables and leads you need and set it up for you.
We can also offer same-day delivery or deliver within 2-4 hours if you're based in London, Birmingham or Cardiff. We'll tailor your customised quote depending on the distance we'll drive in order to deliver the unit. We can help you decide what would best suit your needs as well as setting up a convenient delivery date and time.
We've been established in the fridge trailer hire, freezer trailer hire and modular cold room business for over twenty years. We are widely experienced in dealing with the needs of both commercial and private clients. Our customers come back to Icecool time and time again because of our service, reliability and dependability.
Call 01635 250 950 today or visit our website for more information on external refrigeration and a customised quote.