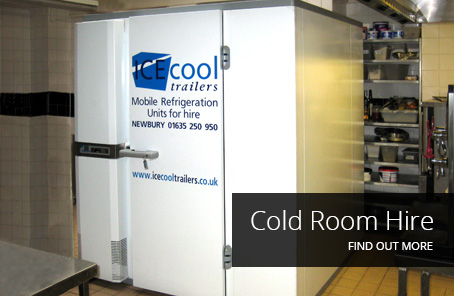 29-Sep-2016
A mobile cold room can provide the ideal solution whenever you need extra cold storage space. However, many people have concerns surrounding their safety and security. At Icecool Trailers, we understand this, and aim to offer you complete peace of mind about using this highly versatile solution.
A safe and trustworthy solution
At Icecool Trailers, we have 20 years' experience of providing mobile cold storage solutions to both trade and private customers. We are lucky enough to have built up a strong rapport with our clients, and we have come to understand what is expected from a cold storage service, including people's concerns about safety and security.
When you hire a mobile cold room from Icecool Trailers, you are guaranteed a high-quality product that will not cause you any concerns. All of our mobile cold rooms are fully lockable and the doors are secured on robust hinges.
In addition, we assemble the cold rooms for you ourselves, even installing the shelving, so we can make sure that everything is correctly secured. Our cold rooms cannot be dismantled from the outside.
We also supply the power cables so there is as little chance as possible of anything going wrong. All you need is either a 13 amp or 16 amp socket; or in cases where a power supply is unavailable, such as at outdoor events, our cold rooms can be powered by a generator.
All of our cold storage solutions are serviced regularly and we take pride in offering you a quick, no-hassle, professional service, doing as much of the hard work for you as we possibly can.
Cold Rooms can meet your needs
Cold rooms can provide essential extra cold storage space that can be utilised by many industries including catering, hospitality, medical and horticulture. They are also an ideal solution for private clients holding weddings, parties or other large events, especially as they are suitable for use indoors or outdoors.
Icecool Trailers also provide an emergency service to trade customers living in London, the Thames Valley, the Home Counties, South Wales and the Midlands, amongst other areas. Depending upon your location, we can provide you with emergency cold storage within two to four hours, so your business can get up and running as quickly as possible again in the event of a disaster.
Please give Icecool Trailers a call to discuss your cold storage needs, and we will provide you with a simple, safe and secure solution.