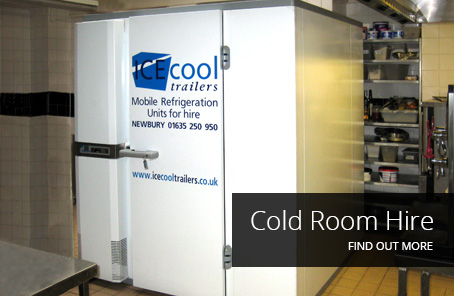 25-Aug-2016
If you work in the catering or events trade, or regularly need a large capacity of cold food storage, you will know the importance of being prepared for an emergency. For caterers in particular, your entire livelihood can depend upon how quickly and successfully you can respond to unforeseen events such as your fridge or freezer breaking down. This is why it's vital to know that help is on hand in the event of such an occurrence.
Emergency Cold Storage
Icecool Trailers can provide you with the quick and reliable help you need if an emergency occurs. We can be contacted 24/7 by our trade customers, and respond to all calls as quickly as we can, putting solutions in place to solve all your cold and freezer storage problems.
We aim to set you up with a solution on the same day of your call, depending on what time you call us and where you are located. For customers in the south of England, our response time can be as rapid as within two to four hours of you contacting us. However, we provide our service throughout the UK, and will find the quickest possible solution for you wherever you're based.
A Wide Range of Options
We have a wide range of products for hire, ranging from fridge and freezer trailers through to walk-in cold and freezer rooms with varying capacities to suit your needs. In an emergency, it can be difficult to know what solution will work best for you, which is why we're happy to offer advice over the phone before you make your booking.
All our storage solutions are delivered and assembled for you by our experienced Icecool Trailers staff, who will ensure everything is operational and safe. They will deliver either to your premises or a location of your choice, and collect the item again at the end of your hire.
All our products are supplied with the correct cables.
Using Our Experience to Help You
At Icecool Trailers, we have over 20 years' experience providing temporary, mobile cold storage and freezer solutions to both commercial and private clients throughout the UK. Working predominantly with the catering and hotel trades and outdoor activities providers, we can offer the vital quick response you need to keep you in business in the event of an emergency. For further information, or in an emergency, please contact us on 01635 250 950.