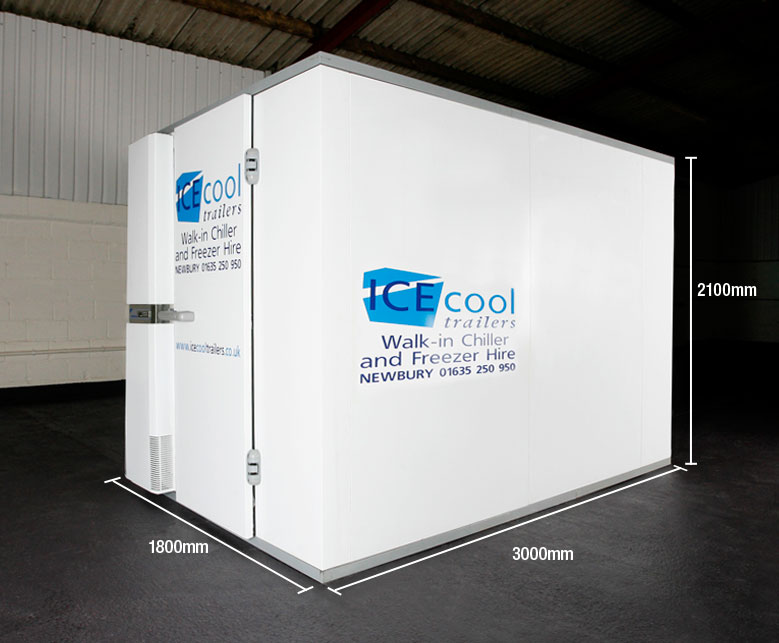 20-Sep-2016
There are times when you need additional cold storage space, especially if you're in the catering or hospitality industry; and as your time is precious and costs money, you want a solution that is as quick and simple as possible. However, sometimes a fridge or fridge trailer isn't the answer.
At Icecool Trailers, we can solve the problem, with our mobile Cold Room and Freezer Room hire, which can be up and running within 20 minutes.
Freezer room and cold storage for every situation
At Icecool Trailers, we can provide both cool and freezer rooms in two different sizes; 1.8 metres, which have a storage capacity of around 5 cubic metres, or the larger 3.0 metre rooms, which offer storage space of 8.5 cubic metres. All of our cool and freezer rooms are large enough to stand up in, provide plenty of shelf space and are fully lit and lockable.
Cool rooms and freezer rooms are highly versatile cold storage solutions as they are suitable for both indoor and outdoor use. Many people are surprised by this as they don't believe something that large could fit through their doors. Again, Icecool Trailers have the solution, as we deliver our cool and freezer rooms disassembled in separate panels which are small enough to fit through any normal door.
Icecool Trailers do the hard work for you
We at Icecool Trailers understand that no matter what the occasion, you need a solution that is as easy as possible for you. If it's emergency cold storage you need, your priority is to get your business back up and running with the least down time; or if you're busy organising a party the last thing you need is having to figure out how to put a cool room together!
That's why Icecool Trailers will do all the hard work for you. We deliver your cool or freezer room to your desired location and assemble it for you, even installing the shelving. Assembly usually takes just 20 minutes from start to finish.
Your freezer or cool room then just requires either a 13 or 16-amp power supply; we even supply the cables! Or if there is no power point available, such as at an outdoor event, our cold storage solutions can be powered by a generator.
A versatile solution
Freezer room and cold rooms can provide vital additional cold storage space to a variety of industries including catering, hospitality, medical and horticulture, as well as being ideal for private events. Please give us a call to discuss the perfect cold storage solution for you.