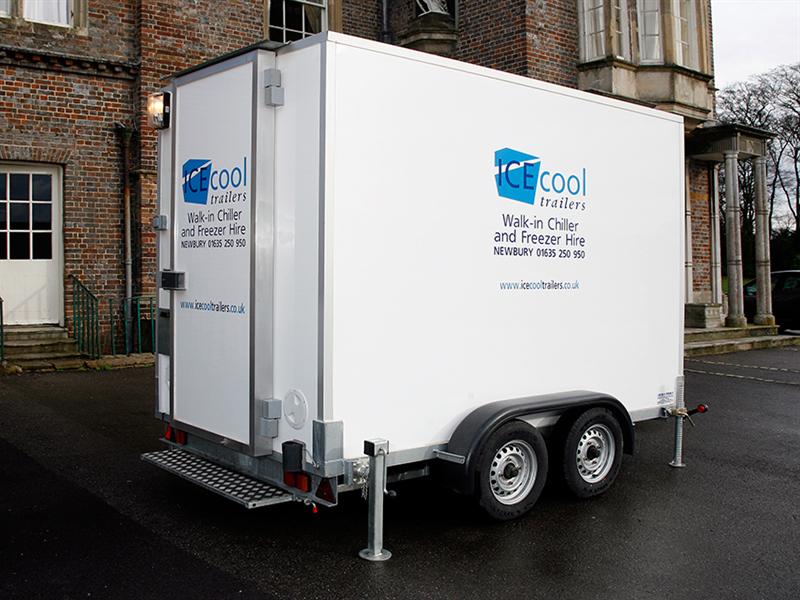 18-Aug-2016
If you're in the catering trade, you obviously want as much business as possible. However, if you're in demand, there are times when you're likely to need some extra storage space for frozen food. Then there are those outdoor events to consider, where you need a satisfactory method of keeping food cold and/ or frozen on site in order to comply with legal requirements.
Your entire business relies on your ability to provide adequate cold and frozen food storage. However, there are likely to be times when what you have simply isn't enough; or worse, your own has broken down. This is where Icecool Trailers' 1.8 metre Freezer Room can help.
An Ideal Temporary Solution
Icecool Trailers have a 1.8 metre walk-in freezer/ chiller for hire. The smaller of our freezer rooms, it can provide you with the vital extra storage space you need to keep your cold and frozen food at the right temperatures.
Our highly experienced Icecool Trailers personnel will deliver the freezer room either to your premises or to a location of your choice, such as if you're catering for an event off-site. We will also assemble it for you to make sure everything is fitted and working correctly. We will then return to dismantle and collect it for you at the end of your hire.
The Additional Storage You Need
Our 1.8 metre Freezer Room has a storage capacity of approximately five cubic metres. This is more than adequate for most temporary catering needs; however, we also have a wide range of larger and smaller freezing and cooling solutions available for hire. If you're unsure of how much space you need, we are happy to discuss it with you by phone before you make your booking.
Icecool Trailers will supply all the necessary cables, and the freezer room can be powered from either a standard 13 amp socket or a 16 amp "C" form socket. In addition, it can also be powered from a portable generator, making it an ideal choice for outdoor events.
Why Icecool?
Icecool Trailers have over 20 years' experience providing temporary cold storage solutions to both commercial and private clients throughout the UK. Our trade customers can enjoy 24/7 emergency callout and same-day emergency refrigeration service, to keep your business running smoothly even if your freezer breaks down.
For further information and a free quote, please give us a call on 01635 250 950.