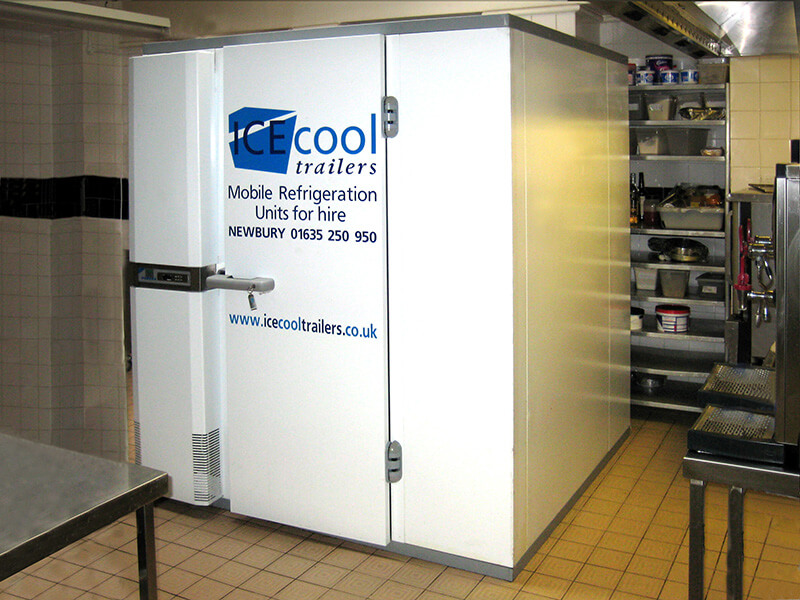 28-Jul-2016
Every takeaway restaurant owner has bad days. One of the most common crises takeaways experience is the breakdown of equipment. Losing a fryer is bad for business, but losing your refrigeration unit can spell financial disaster. Your food stocks will ruin in a very short time without correct refrigeration.
What to do in an emergency
If your restaurant refrigeration unit breaks down, don't open the doors of your broken unit. Keep it closed to retain the temperature you have and it will stay cool enough to be safe for food storage for around 4 hours.
Phone Icecool Trailers immediately for a quick quote on the supply of a mobile refrigeration unit. We provide same-day refrigeration unit rental and if you live in London, Birmingham or Cardiff, we can be with you within 2-4 hours. We also have units on call in Berkshire and cover Hampshire, Oxfordshire, Northamptonshire, Wiltshire, Gloucestershire, Dorset, Avon & Somerset, Worcestershire, Bedfordshire, Warwickshire, Hertfordshire, Essex, Surrey and Sussex.
Our solutions to your emergency are:
Mobile Refrigeration Trailers
For smaller takeaways, bars, pubs or restaurants we can supply either a 2.4 or 3.0m refrigeration trailer. The 2.4m trailer has an internal capacity of 6 cubic metres. The 3.0 m trailer has an internal capacity of 8.5 cubic metres, and is typically hired by larger venues, such as hotels or for events. We can help you chose the most suitable trailer. Both are easy to park and manoeuver onto most premises. We set the trailer up wherever you want it, installing the shelves, powering up and stabilising the unit. If you do not have an easily accessible power source, we can supply a portable generator.
Our refrigeration trailers are most frequently hired at weekends, when a takeaway fridge has broken down and it is almost impossible to find an engineer. The busiest time of the week is no time to lose capacity, so rely on us to get you up and running until you can find an engineer or a replacement unit. You will be astonished by how quickly we can set up and save the day in an emergency. We understand that time is critical when refrigeration emergencies occur, and that businesses have a huge amount of money invested in stock.
Cold Room Rental
If you need a larger unit, our mobile cool rooms can be set up quickly and easily. We offer 1.8 or 3.00m cold rooms, complete with shelving, lights and enough room to stand up in. We set the unit up, wherever you want it, and get it powered up ready for you to use. These rentals can be short or long term, and are often requested by larger venues in emergency situations or for one off events.
Emergency Averted
When you have your mobile refrigeration unit in place, sort through your stock and discard any perishable foods, such as poultry, seafood, meat, leftovers or eggs, that has been above 40° F for two hours or more. Hopefully, the majority of your stock will have been stored at a lower temperature than this if you have kept your fridge doors firmly shut, and can be salvaged.