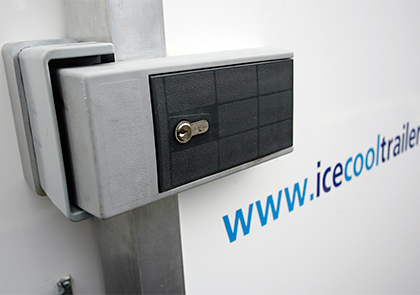 30-Nov-2018
From time to time, Icecool Trailers receives an inquiry from a potential client who knows very little about mobile refrigeration. We take great pride in educating such clients with the knowledge that they may need our services one day. In light of that, we have decided to use this blog post to do much the same thing.
Consider this a beginner's guide to mobile refrigeration. Below is everything you need to know for a basic understanding of what it is we do.
Mobile Refrigeration Defined
First of all, mobile refrigeration is a concept built around providing refrigerator and freezer capacity in a portable format. There are three different options; note that we deal only with two of them:
Trailers – We provide refrigerators and freezers built as trailers that can be towed with any standard pickup truck. We handle the towing, though. We deliver directly to your site and set up the unit for you.

Walk-In Rooms – A second option is a walk-in chiller or freezer installed indoors. Walk-in rooms are delivered as a series of panels that can be carried in through any standard sized door before being assembled in-place.

Vans – Trailers and walk-in rooms are superior to refrigerated van hire in every respect, but vans are out there if you really want them.

We deliver a trailer or walk-in room based on each customer's unique needs. Our trailers and walk-in rooms come in a variety of sizes.
How It Works
Irrespective of whether a customer chooses a trailer or walk-in room, we handle delivery and pickup. Upon delivery, we set up the unit in a spot that is most convenient to the customer. We also hook the unit to mains power, install shelving and lighting, and make sure everything is set to go. A generator can be used if mains power is not available.
At the end of the rental term, we dispatch a technician to pick up the unit and bring it back to our location. If there is any need for maintenance or repair during the term, we handle that as well.
Refrigeration for Emergencies
The majority of our business originates from customers who plan their mobile refrigeration needs well in advance. But we also offer emergency service too. Customers within the Greater London area benefit from emergency service within an hour or two of their call; all other areas we serve receive same-day delivery.
Our trailers and walk-in rooms are used by restaurants, bars and pubs, educational institutions, medical facilities, caterers, and even individuals who just need some extra cold storage capacity for a family event. All it takes to arrange delivery of a unit is a quick call to Icecool Trailers.
If you are in need of mobile refrigeration at any time, for any purpose, please consider Icecool Trailers. We have been in business for more than 20 years, serving most of southern England and a good portion of South Wales. We have a trailer or walk-in room perfect for your needs.