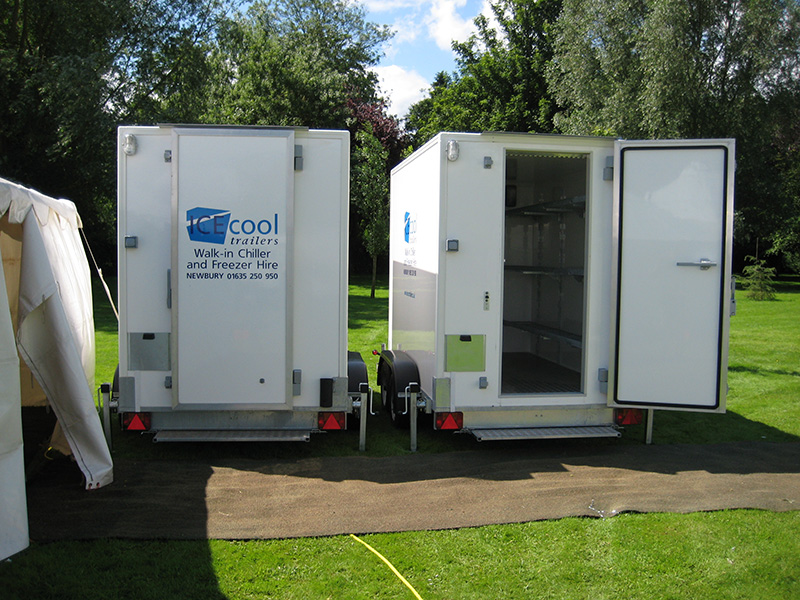 11-Aug-2016
If you run or work for a catering company, you will know the importance of adequate storage space for frozen food. At certain times of year, this can be a problem for those in the catering trade, particularly in the run-up to Christmas, when you are likely to have a lot of party bookings in rapid succession.
In addition, there is the ultimate nightmare for any catering company: the freezer breaking down. If this happens, it's highly important to put provisions in place to allow your business to get back up and running as quickly as possible.
Icecool Trailers Have the Answer
Icecool Trailers can provide the catering trade with a solution for all your temporary freezer storage problems with our 3.0 metre Freezer Room. This walk-in freezer/ chiller is the largest of our freezer rooms for hire, and is ideal for caterers who need some extra space.
The 3.0 metre Freezer Room can be used for extra storage at your premises, and is also an ideal solution if you're catering for a large outdoor event. It will be delivered and assembled at your chosen location by Icecool Trailers personnel; and when you're finished with it, we'll dismantle and collect it for you, too.
All the Extra Space you Need
The dimensions of our 3.0 metre Freezer Room are as follows:
Height: 1.94 metres
Length: 2.84 metres
Width: 1.64 metres
That will provide you will approximately 8.5 cubic metres of extra freezer storage space, enough for even the largest event, or to get you back in business if your freezer breaks down.
Icecool Trailers will supply all the necessary cables; all you need is either a standard 13 amp socket or a 16 amp "C" form socket in order to get the freezer room up and running. In addition, it can also be powered from a portable generator, which is particularly useful if you're catering for an outdoor event.
Why Icecool?
Icecool Trailers have over 20 years' experience providing temporary cold storage solutions throughout the UK. For our trade customers, we provide a same-day emergency refrigeration service in the event that your fridge or freezer breaks down, as we want to see you back in business as quickly as possible. That's why we can be called 24/7 in an emergency.
For further information and a free quote, please give us a call on 01635 250 950.